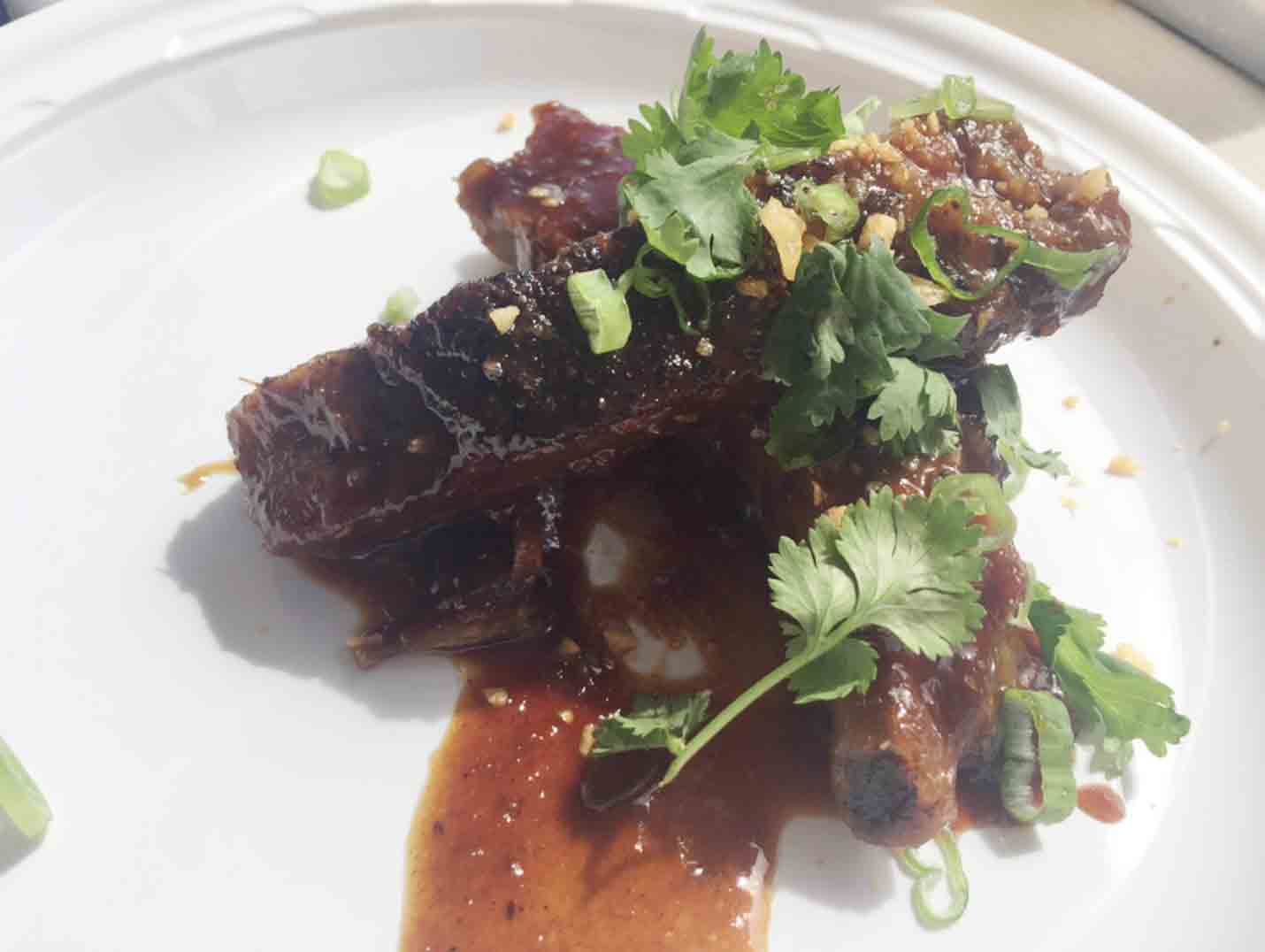 You can also say...
Say "OK" to go back to where you left off.
The BBQ sauce:
2 ½ Tbsp.

coarsely chopped fresh ginger

2 Tbsp.

chopped garlic

1 medium

shallot, peeled

1/4 cup

fish sauce

2/3 cup

rice vinegar

3/4 cup

sugar

1 ½ tsp.

five-spice powder
The Ribs:
3–4 lbs.

baby back ribs
kosher salt and ground black pepper, to taste
five spice powder, to taste
crispy garlic slices, chopped scallions and cilantro leaves for garnish
Prep
1.

In a food processor, combine the ginger, garlic and shallot and process until finely chopped, almost to a paste.

2.

In a bowl, mix together the teriyaki sauce, hoisin sauce, fish sauce and rice vinegar. Set aside.

3.

Place the sugar in a small heavy-bottomed saucepot.

4.

Slowly heat over medium, wiping down the sides with a wet brush if crystals form, until the sugar becomes caramel/deep brown but not burnt (this will turn quickly, so take caution).

5.

Slowly add the teriyaki liquid mixture to the caramel; be careful as it bubbles.

6.

Once the caramel melts into the liquid, stir in the ginger, garlic and shallot paste.

7.

Stir in the five-spice powder, then turn heat to medium-low.

8.

Cook for 20 minutes and then cool completely.

9.

Preheat the oven to 300°F.

10.

Generously season the ribs on all sides with salt, black pepper and five-spice.

11.

Place the ribs on a baking sheet and cover with foil.
Cook
1.

Cook the ribs for approx. 2-2½ hours, or until tender. Remove them and let cool completely.

2.

When ready to finish, preheat a grill to high heat.

3.

Coat the ribs with the finished BBQ sauce and grill until smoky and heated through, basting with extra sauce as they cook and flipping occasionally, about 15-20 minutes. Be careful not to let the sauce burn.

4.

While the ribs cook, crisp the garlic in oil until golden and drain on paper towels.

5.

Serve the ribs garnished with crispy garlic slices, chopped scallions and cilantro.