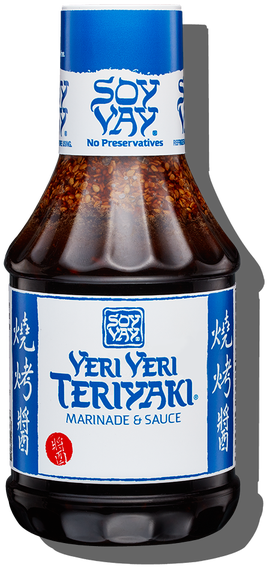 Veri Veri Teriyaki® Marinade & Sauce
Description

Ingredients &

Nutrition
How to Use
Creating absurdly loyal teriyaki fans since it graced its first stir-fry in the '80s, our award-winning Veri Veri Teriyaki® blend will take any food from "meh" to mind-blowing.
Silver Finalist, Outstanding Cooking Sauce, NASFT Sofi Awards
Certified Kosher by the Orthodox Union
No preservatives
Flavor notes: salty, gingery, garlicky
Vegan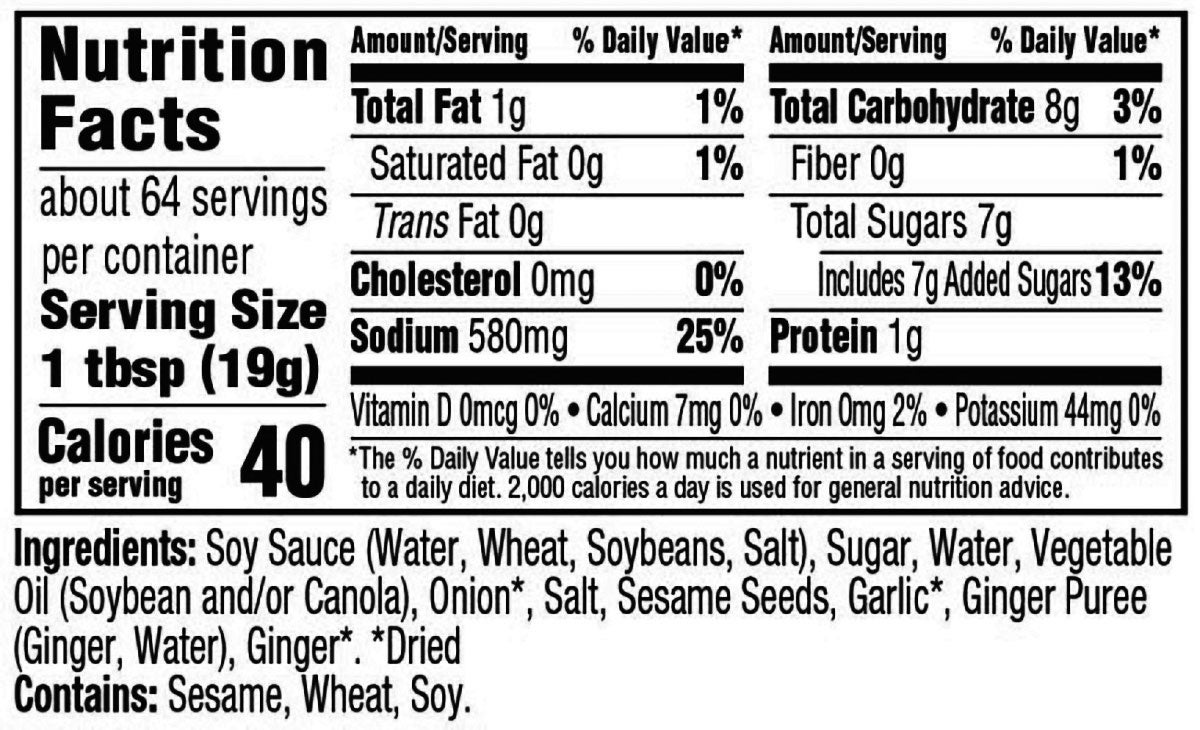 • Super versatile. Use as a marinade, sauce or dip.
• Add it to your favorite protein: chicken, grilled steak or a veggie stir-fry.
• Feeling frisky? Add it into your burger mix or Tuesday tacos.
• This is a kid-friendly flavor. (Might we suggest teriyaki meatballs?)
Rated

5

out of

5
by
Nataliek
from
Great Sauce
It is great in all my stir fryes! and I love that it is made from Genetically modified foods! Actually most soy and wheat plants produced in America are modified in some way and it is only for the best! The plants are made more nutritious and can be grown in higher volume! GMOs aren't bad! Plus the sauce is good! (also in highly processed foods like sauces, the chances of their being any dna from other organisms is slim to none)
Date published: 2019-05-23
Rated

1

out of

5
by
ChefDad
from
Contains GMOs
I loved this but after using for sometime I read the label and found out it contains GMOs. Sorry but I won't be purchasing again!!!
Date published: 2019-03-25
Rated

1

out of

5
by
Mom of 4
from
Genetically modified ingredients???
We love this sauce, however, after noticing that you use GMO ingredients, we will no longer be buying it. Additionally, I think its really cra**y that you have not addressed these comments on the site, and instead have forwarded everyone's calls to the '800' number. If you use the GMO ingredients, then you should answer the questions regarding them IN PRINT
Date published: 2019-03-19
Rated

5

out of

5
by
Paglock
from
Unbelievible
Was given a bottle and was sitting on it, waiting for the chicken. Well I used about i third on 1lb and a half if ground beef. Well let me tell ya, wham bahm thank you. What a burger. It's now how it's done, and I mean forever. But I haven't tried the others yet, so we will see.
Date published: 2018-07-12
Rated

5

out of

5
by
Mary G
from
Easy Schmeezy to use
Recently discovered this super delicious sauce. I marinated some chicken cutlets for about 1 hour. I stir fried onions, red bell peppers, sliced up garlic. Then taking veggies out of pan I cooked the chicken and cut them up and tossed everything together with extra teriyaki sauce and serve over white rice I had flavored with minced garlic and green peas for color. This sauce was sooooo delish. Need to buy more.
Date published: 2018-07-04
Rated

5

out of

5
by
Shome Mom
from
Yummy!!
Bought at Walmart for under $4 bucks and I used it on baked chicken thighs with jasmine rice and it was really good. Next time I use it I will try to thicken it up on the stove first and may add a little cornstarch to it. Overall I liked it a lot and so did my family.
Date published: 2018-05-29
Rated

5

out of

5
by
ElladanWJZ
from
Best Teriyaki Sauce
We have been using this sauce in our asian recipes for years. It is far and away the most flavorful, tasty teriyaki sauce we have used. We buy it by the gallon at a store that caters to restauranteurs.
Date published: 2018-03-17
Rated

4

out of

5
by
Nick Danger
from
Problem with genetically modified ingredients
I stared at the Oriental Food section for 10 minutes and bought the Veri Veri. We like it so I find myself on the site, here, where I read about GMO concerns (from one writer). Tell me; What is the result of GMO production and consumption that I should be concerned with?
Date published: 2017-10-23
Rated

5

out of

5
by
Karen from CA
from
I can't believe how good this is
I usually don't trust sauces and marinades from a bottle. But this has a very authentic home-made taste. Just used it as a marinade for BBQ chicken. Everyone loved it, even the pickiest eater. And left-overs tasted just as good the next day!
Date published: 2017-10-17
Rated

1

out of

5
by
BethP
from
The Real nutrition Label
This is the actual label on this product. Notice the statement about genetic engineering. I won"t be buying this again or using this bottle. Remember to always read labels.
Date published: 2017-07-11
Rated

5

out of

5
by
Sparky_07
from
The best
my brother introduced this to me when he was a butcher, and It used to only be in the meat department but it's now everywhere and it is the best sauce I have ever used and that kids will like. I am making stir fry tonight with it and I am going to show it to my roommate for the first time. She doesn't like teriyaki but I know she will like this. My picky daughter likes it and she hates teriyaki even from P.F. Chang's but she loves soy vay.
Date published: 2017-06-21
Rated

5

out of

5
by
Smoose13
from
Yum!!!
Decided to try your product yesterday.. poured a little on a burger as it cooked..omg was it good!!.. just had chicken Ceasar salad and mixed in a little of your teriyaki in with the Ceasar dressing..I'm pretty sure I could eat this stuff on just about anything!!!
Date published: 2017-05-27
Rated

5

out of

5
by
karen
from
buy in bulk
I buy this at bj's wholesale, it's cheaper than at Wegmans and you get a huge bottle. I use this for boneless pork loins marinated overnight. Tonight it's over sirloin steak with rice and grilled pineapple.
Date published: 2017-04-27
Rated

5

out of

5
by
Casie48
from
fantastic on sirlion strips
I marinate sirloin strips in half a bottle of veri veri teriyaki and 3 tbp honey over night . Simmer till they are tender, serve with rice. We put the marinade over the rice. Tastes great.
Date published: 2017-04-10
Rated

5

out of

5
by
vrocks
from
The best sauce ever
We like to pair this with country style pork strips and white rice, with sauteed vegetables. Out of the bottle the texture is perfect for basting the pork on the BBQ. I like to also back it up with a little onion powder to keep the sauce sticky and on the meat instead of into the grill. Then I put some on a pan and put it on low heat to reduce. After it is thicker I let it cool a bit before drizzling over the white rice. The BBQ'ed pork has a nice caramelization from the sauce. Just amazing!
Date published: 2017-03-15
Rated

5

out of

5
by
danac
from
the teriyaki is te best flavor , I don't look for any other brand. I am so very happy with it. incredible, try it, but don't but it all.
Date published: 2017-01-01
Rated

5

out of

5
by
Drummer
from
Unbelievable flavor!
I stumbled across this while shopping at Safeway. I didn't have any choice but to notice it because it was on a kiosk 1/3 in the middle of an aisle, creating a traffic jam. It was on sale - "Buy 1 get 1 free." I tried it. MY GOD!!! This stuff is delicious! I've used it to the point that it's a staple in my kitchen. Try adding it to chicken, steaks and burgers. I also added it as my dressing in a salad. It was a little potent for that, but for meats it's fantastic. It also saved me a lot of prep by just pouring it in as opposed to creating something from scratch. Keep in mind that it's more of a marinade than a sauce. But still, WOW!
Date published: 2016-07-31
Rated

5

out of

5
by
snritz
from
Unbelievably awesome!
Since discovering Soy Vay about a year ago, I have implored my friends to try it! It is, BY FAR, the best teriyaki sauce I've ever had and even better than homemade )and certainly easier). I tried many different bottle teriyaki sauces with very disappointing results but this one is FANTASTIC! I'll stand at the stove and eat spoonfuls of it while cooking. It's so good!!!
Date published: 2016-04-27
Rated

5

out of

5
by
Chickie
from
The BEST sauce anywhere!
I love this sauce! Bought it for my daughters and a couple of friends! They love it too!
Date published: 2016-02-12
Rated

5

out of

5
by
ajbc
from
Love this sauce!
We cook chicken in this sauce all the time & all my kids love it as well!
Date published: 2015-04-20
Rated

5

out of

5
by
JoAnn
from
Perfect
I have been using this Teriyaki brand since I was first learning my way around a kitchen, and now, as a mother, I am very pleased that Soy Vay is adored by my very picky children. It's so easy to make anything tasty with it.
Date published: 2015-03-21
Rated

5

out of

5
by
jake2k15
from
Best Sauce around
When I was a kid my friends dad would make Teriyaki salmon and teriyaki chicken kabobs. They were the best. In my adult life I tried many different sauces but could never find the kind my friends dad used. Finally I bought Savoy teriyaki sauce and found what I had been looking for for so long. This sauce is the best and there is nothing else like it. No compromise.
Date published: 2015-03-17
Rated

5

out of

5
by
Geri
from
Veri Veri Teriyaki amazing multiple use sauce
If you have a naked chicken and it needs a great dressing to change it from just bland to "outstanding". You have it right here in a bottle. I've been using it for a few years and panic if I can't find it at the grocery store. It's a one of a kind sauce that you'll get hooked on. Has a great flavor and can be used on anything you want to jazz up. Great for sushi dipping too. Totally satisfied with this wonderful product.
Date published: 2015-02-28
Rated

5

out of

5
by
catdriver
from
The Best Teriyaki Sauce
I was a cook in several fine restaurants. We used teriyaki sauce that we blended with fresh ingredients. Over the years I've tried recreating the flavors in that sauce. Recently I have used Veri Veri Teriyaki sauce. This is the best teriyaki sauce that I have ever used.
Date published: 2015-01-05
Rated

5

out of

5
by
Jinxy
from
Fantastic taste!
This teriyaki is honestly the best one I have had. Even when trying imported teriyaki sauces from the east, this one stands out to be the greatest! My only con with this, is that I would love the sauce to be thicker.
Date published: 2014-11-26
Rated

1

out of

5
by
ilexaquifolium
from
Dude, What Happened to My Teriyaki?
I'm from the SF bay area and have been buying this sauce for years, way back when it was a cool insider's game in the late 90s or so. I have a lot of respect for this company and its commitment to quality ingredients and authentic Asian flavors, and was nothing less than shocked to find that my favorite of your sauces -- Veri Veri Teriyaki -- is now packed in plastic. Despite the cap's proclamation that it has the "Same Great Taste," I beg to differ. It tastes much more salty than I remember. The new bottle is also a whole ounce smaller than the old one. An ounce is a lot of teriyaki awesomeness to be missing from a bottle. Please bring back the old packaging! Your absurdly loyal customers (especially this one) will appreciate it.
Date published: 2014-08-01
Rated

5

out of

5
by
Alabama
from
Best sauce ever
This sauce is amazing on everything. It is great on venasin and fish . It doesn't dry out the meat like other sauces.
Date published: 2014-07-27
Rated

5

out of

5
by
Lydia
from
Ms
We love this sauce and have been using since our daughter who lived in CO introduced us to it. We live in RI now and are having a hard time finding it in grocery stores. Please let us know where we can find it.
Date published: 2014-07-17
Rated

5

out of

5
by
Adamos
from
Absolutely, Positively Great!
The best "over the counter" teriyaki sauce money can buy. I'll put it this way; buy this sauce, put it on your chicken (baked, grilled, bbq'd, whatever) and your plate of homemade chicken will become arguably the best tasting plate of teriyaki chicken (restaurant included) that you've had thus far to tell about... That is all.
Date published: 2014-07-05
Rated

5

out of

5
by
EllesBelles
from
Perfect Teriyaki
I like to make sauces from scratch but this teriyaki is better than what I can make. We are a two income family and working full time while keeping up with kids and their schedules means that cooking needs to be healthy but fast. This product really helps and the family loves it in our stir fry.
Date published: 2014-06-21
y_2023, m_5, d_23, h_22
bvseo_bulk, prod_bvrr, vn_bulk_3.0.35
cp_3, bvpage2n
co_hasreviews, tv_3, tr_91
loc_en_US, sid_veri-veri-teriyaki, prod, sort_[SortEntry(order=SUBMISSION_TIME, direction=DESCENDING)]
clientName_soyvay
bvseo_sdk, p_sdk, 3.2.1
CLOUD, getReviews, 181.17ms
REVIEWS, PRODUCT