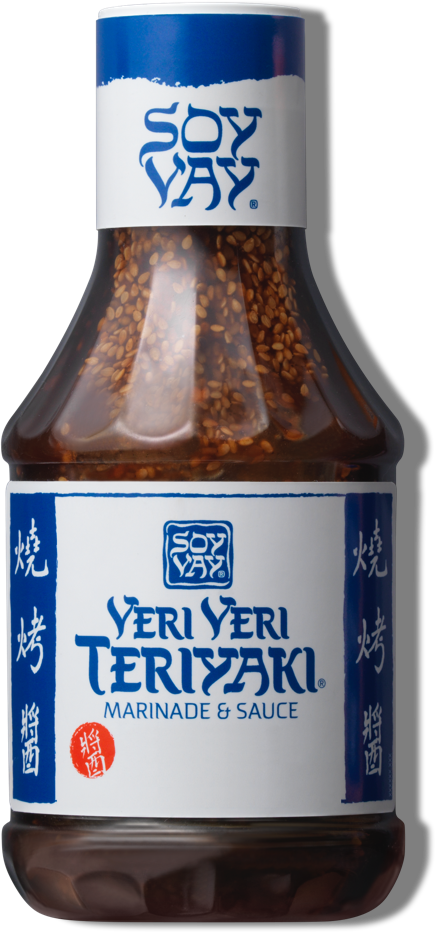 Veri Veri Teriyaki
Creating absurdly loyal teriyaki fans since it graced its first stir-fry in the '80s, our award-winning Veri Veri Teriyaki® blend will take any food from "meh" to mind-blowing.
Silver Finalist, Outstanding Cooking Sauce, NASFT Sofi Awards
Certified Kosher by the Orthodox Union
No preservatives
Flavor notes: salty, gingery, garlicky
See Nutritional Information

Veri Veri Teriyaki
is rated out of
5
by
36
.
Rated

5

out of

5
by
ajbc
from
Love this sauce!
We cook chicken in this sauce all the time & all my kids love it as well!
Date published: 2015-04-20
Rated

5

out of

5
by
JoAnn
from
Perfect
I have been using this Teriyaki brand since I was first learning my way around a kitchen, and now, as a mother, I am very pleased that Soy Vay is adored by my very picky children. It's so easy to make anything tasty with it.
Date published: 2015-03-21
Rated

5

out of

5
by
jake2k15
from
Best Sauce around
When I was a kid my friends dad would make Teriyaki salmon and teriyaki chicken kabobs. They were the best. In my adult life I tried many different sauces but could never find the kind my friends dad used. Finally I bought Savoy teriyaki sauce and found what I had been looking for for so long. This sauce is the best and there is nothing else like it. No compromise.
Date published: 2015-03-17
Rated

5

out of

5
by
Geri
from
Veri Veri Teriyaki amazing multiple use sauce
If you have a naked chicken and it needs a great dressing to change it from just bland to "outstanding". You have it right here in a bottle. I've been using it for a few years and panic if I can't find it at the grocery store. It's a one of a kind sauce that you'll get hooked on. Has a great flavor and can be used on anything you want to jazz up. Great for sushi dipping too. Totally satisfied with this wonderful product.
Date published: 2015-02-28
Rated

5

out of

5
by
catdriver
from
The Best Teriyaki Sauce
I was a cook in several fine restaurants. We used teriyaki sauce that we blended with fresh ingredients. Over the years I've tried recreating the flavors in that sauce. Recently I have used Veri Veri Teriyaki sauce. This is the best teriyaki sauce that I have ever used.
Date published: 2015-01-05
Rated

5

out of

5
by
Jinxy
from
Fantastic taste!
This teriyaki is honestly the best one I have had. Even when trying imported teriyaki sauces from the east, this one stands out to be the greatest! My only con with this, is that I would love the sauce to be thicker.
Date published: 2014-11-26
Rated

1

out of

5
by
SamFranSmashco
from
Dude, What Happened to My Teriyaki?
I'm from the SF bay area and have been buying this sauce for years, way back when it was a cool insider's game in the late 90s or so. I have a lot of respect for this company and its commitment to quality ingredients and authentic Asian flavors, and was nothing less than shocked to find that my favorite of your sauces -- Veri Veri Teriyaki -- is now packed in plastic. Despite the cap's proclamation that it has the "Same Great Taste," I beg to differ. It tastes much more salty than I remember. The new bottle is also a whole ounce smaller than the old one. An ounce is a lot of teriyaki awesomeness to be missing from a bottle. Please bring back the old packaging! Your absurdly loyal customers (especially this one) will appreciate it.
Date published: 2014-08-01
Rated

5

out of

5
by
Alabama
from
Best sauce ever
This sauce is amazing on everything. It is great on venasin and fish . It doesn't dry out the meat like other sauces.
Date published: 2014-07-27
You Might Also Dig
Miso Vinaigrette
Island Teriyaki