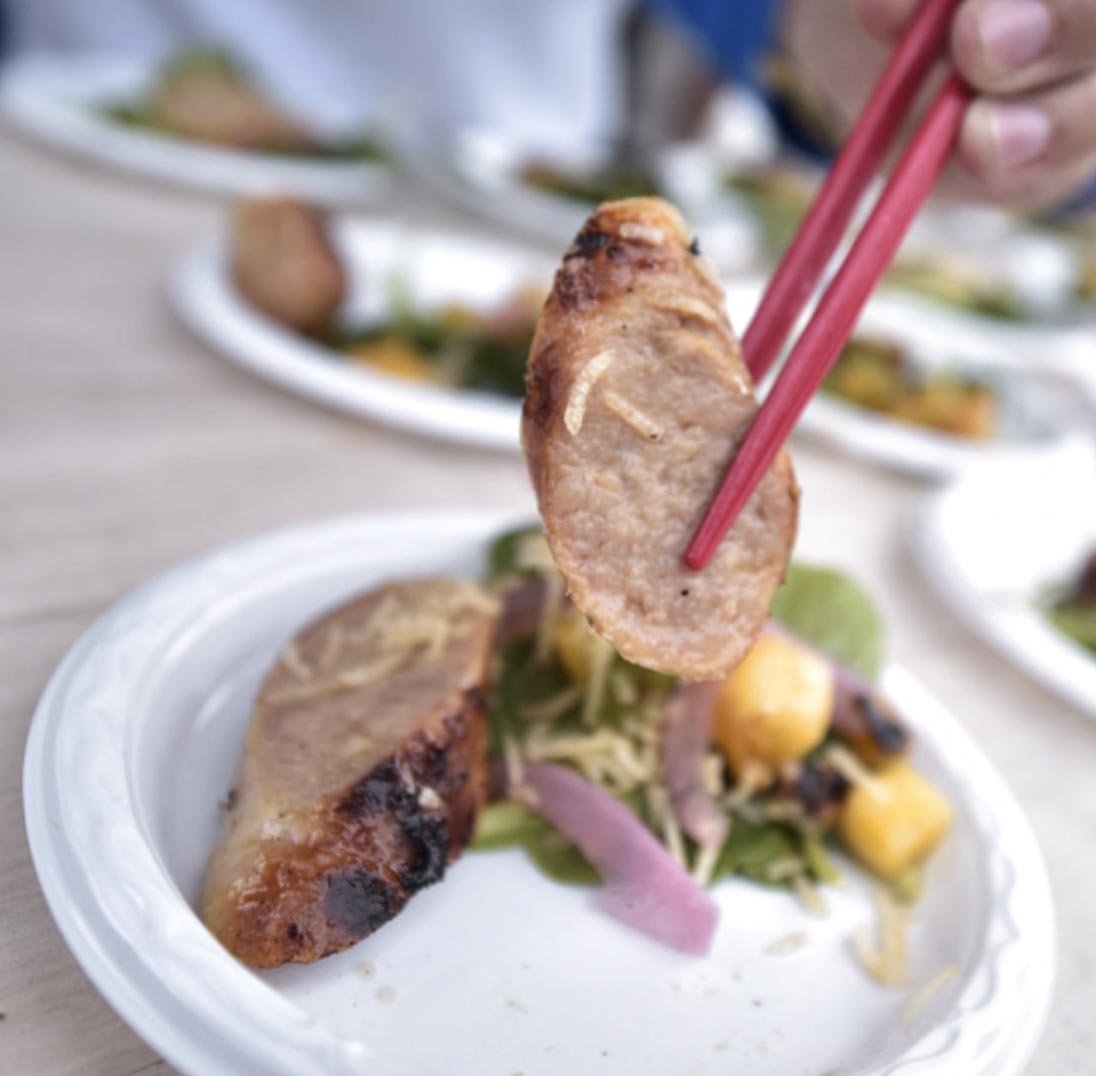 You can also say...
Say "OK" to go back to where you left off.
Ingredients
1 lb.

ground chicken

12 g

brown sugar

14 g

salt
hog casings

1/2 lb.

tatsoi

1/2 cup

diced pineapple

1/2

lemon, juiced

1/4 cup

pickled red onion

1/2 cup

cooked jasmine rice (cold and preferably one day old)

1/2 cup

rice flour
oil for deep frying
Prep
1.

Mix the chicken, brown sugar, salt and 3/4 oz. of the teriyaki sauce together, and combine completely.

2.

Using a sausage stuffer, fill the casings with the mixture. Tie off the sausage into 4 equal-sized links.

3.

Cook the rice and allow it to cool. (Can be done a day in advance).

4.

Combine the rice and rice flour, and mix to evenly coat all of the rice. Don't allow the rice to clump together; it should be dry and in separate pieces.
Cook
1.

Grill the sausages until cooked through, at least 10 minutes. Set aside and let rest for 5 minutes.

2.

Shake the excess flour from the rice and drop all of it into a deep fryer or frying pan with 1/2" of oil heated to 355°F. Fry the rice for 1 minute and drain on paper towels. Allow to cool.

3.

In a mixing bowl combine the tatsoi, pineapple and pickled red onion.

4.

Drizzle the remaining teriyaki sauce over the salad and squeeze in the lemon juice.

5.

Toss the salad, split it equally onto 4 plates and garnish with the crispy rice.

6.

Place 1 sausage on each plate.