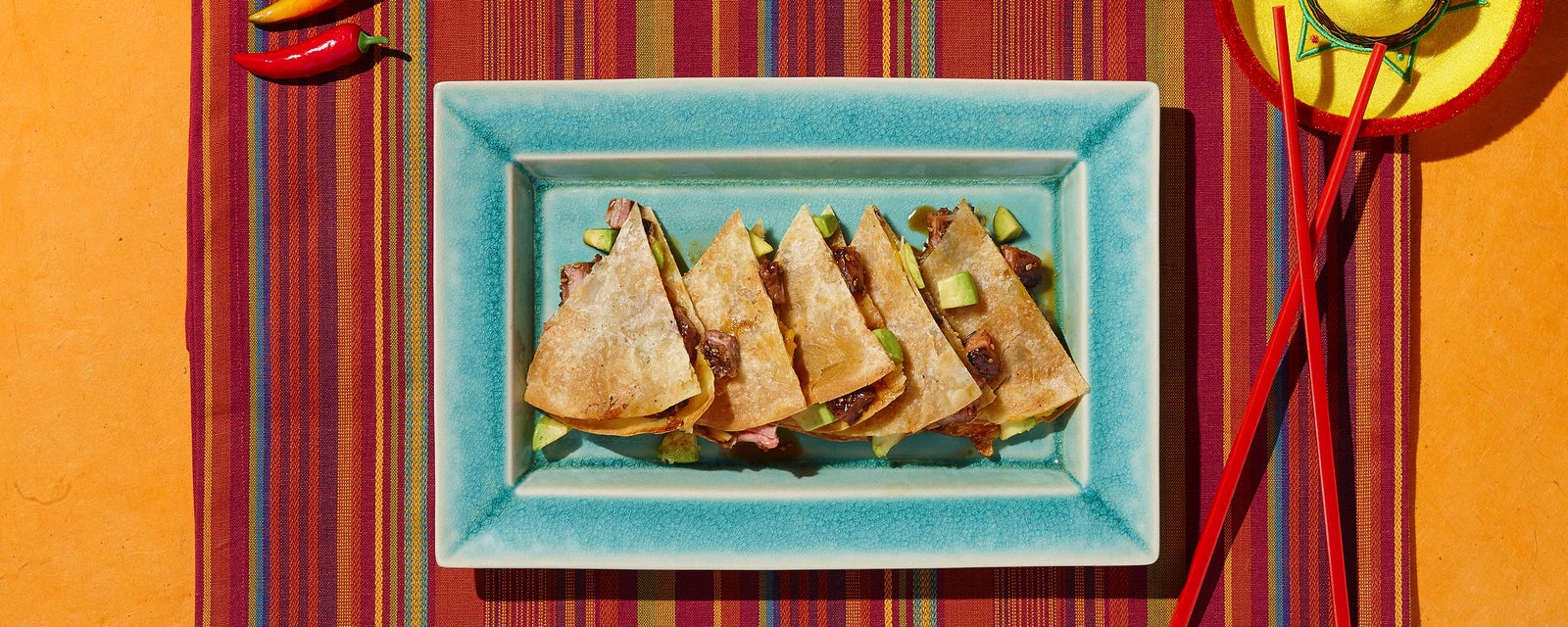 ×
You can also say...
Say "OK" to go back to where you left off.
Ingredients
1/2 lb.

skirt steak

1/4 cup

Soy Vay® Veri Veri Teriyaki®

1

avocado
cooking spray

3 Tbsp.

cooking oil

8

small flour tortillas

1½ cups

shredded cheddar or Monterey Jack cheese

1/4 cup

sour cream
Prep
1.

Place the steak and Veri Veri Teriyaki sauce in a large resealable bag and marinate in the fridge for 30 minutes or overnight for more flavor.

2.

When the meat is ready, discard any leftover marinade.

3.

Prepare a charcoal grill for direct cooking over medium-high heat.

4.
Cook
1.

Grill the steak to desired doneness, about 3 minutes per side for medium-rare. Make sure it reaches a minimum internal temperature of 145ºF.

2.

Let the steak rest for 5 minutes.

3.

Cut into bite-sized pieces.

4.

Pit and dice the avocado.

5.

Grease 2 baking sheets with cooking spray.

6.

Brush one side of each tortilla with cooking oil and place, oil side down, on the baking sheet.

7.

Divide the cheese between the tortillas.

8.

Layer with steak and avocado.

9.

Top with remaining tortillas and bake, flipping once, until lightly browned and crispy, about 5 minutes per side.

10.

Transfer to a cutting board and cut each quesadilla into triangles.

11.

Serve with extra Veri Veri Teriyaki sauce and sour cream for dipping.