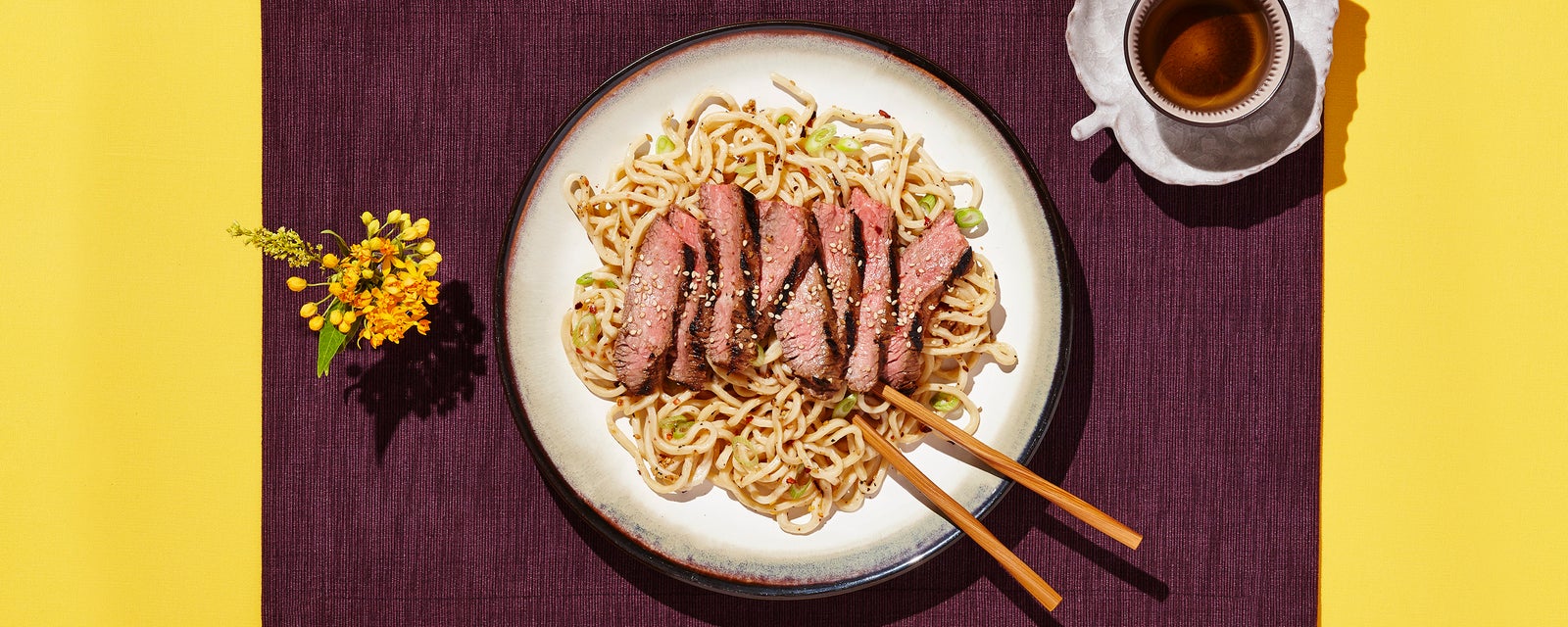 You can also say...
Say "OK" to go back to where you left off.
Ingredients
3 cloves

garlic

1/2 oz.

fresh ginger (or 2 tsp. minced)

1/3 cup

dry sherry or apple juice

2 Tbsp.

soy sauce

1 tsp.

red pepper flakes

1/4 tsp.

black pepper

1 lb.

lean beef (sirloin or flank steak)

5

scallions, for garnish

1 package (12 oz.)

No Yolk Stir Fry noodles

2 Tbsp.

toasted sesame seeds
Prep
1.

Mince the garlic and ginger.

2.

Combine the Toasted Sesame sauce, sherry (or apple juice), soy sauce, red pepper flakes, minced garlic, minced ginger and pepper in a large resealable bag.

3.

Shake it until all the ingredients are combined

4.

Add the steak to the bag and let it marinate in the fridge for an hour, or longer for a more robust flavor.

5.

When your meat is ready, discard any extra marinade.

6.

Prepare a charcoal grill for direct cooking over medium-high heat.

7.

Thinly slice the scallions.

8.

Cook the noodles according to package instructions. Stir-fry noodles with Soy Vay® Veri Veri Terriyaki® Marinade & Sauce to preferred taste.
Cook
1.

Place the steak on the grill and cook until desired doneness. The meat should reach a minimum internal temperature of 145ºF. Keep the grill covered as much as possible to ensure even cooking.

2.

When the meat is done, remove from the grill and let it rest for 5 minutes.

3.

Slice the steak thinly against the grain and plate over the hot noodles.

4.

Garnish with sesame seeds and scallions.

5.