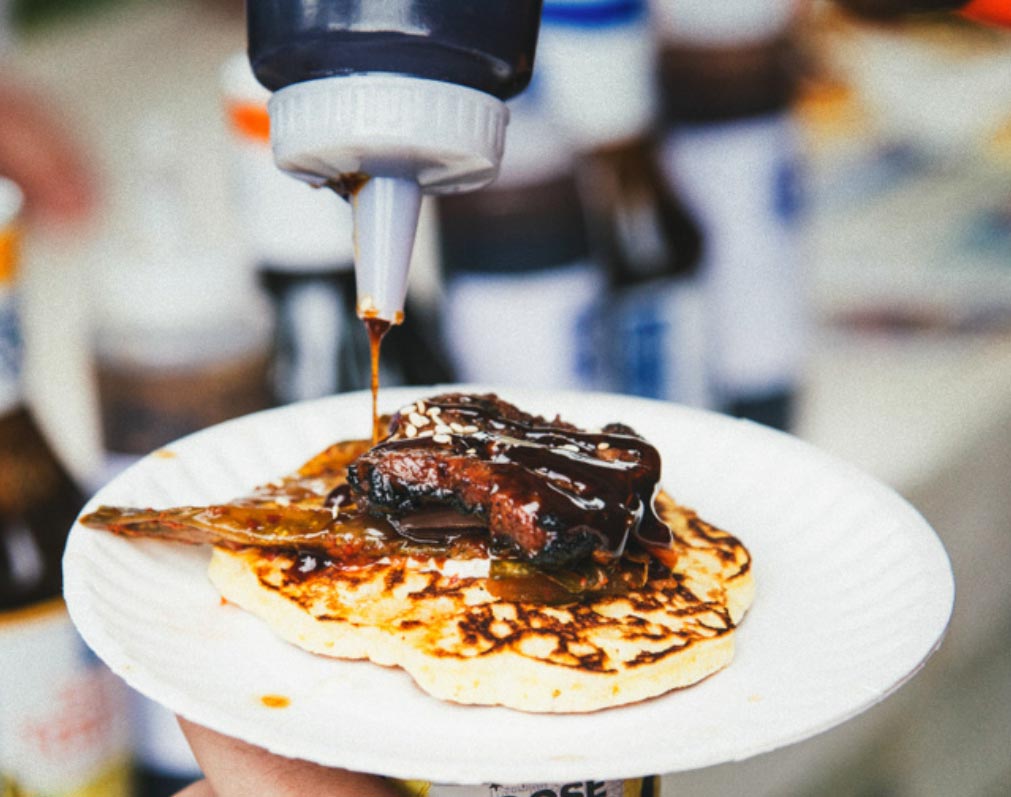 You can also say...
Say "OK" to go back to where you left off.
Ingredients
1 cup

Worcestershire sauce, 1/2 tsp separated

1/4 cup

soy sauce

1 tsp

liquid smoke

1 Tbsp

sorghum

1 Tbsp

dark brown sugar

1 tsp

onion powder

1 tsp

garlic powder

1 tsp

chili flakes, separated

1 ⅓ Tbsp

salt, 1 tsp separated

1 cup

Lillie's Q Gold Sauce

2 lbs

Korean short ribs, sliced 3/8" thick, bones removed

1/4 cup

mayonnaise

2 Tbsp

shallots, minced

1 Tbsp

pickled okra

1 tsp

pickled garlic

1/2 tsp

grated horseradish

1

lemon, zested & 1/2 juiced

1 branch

dill, chopped

1/2 tsp

whole grain mustard

1/2 tsp

ketchup

1/4 tsp

paprika

pinch

cayenne

1 clove

garlic, zested

1/2 tsp

pepper

1

lime, juiced and zested

1 tsp

green hot sauce

1 Tbsp

grapeseed oil (or your favorite oil)

2 Tbsp

benne (or sesame) seeds

1 cup

prepared kimchi

1 cup

fresh corn kernels

1/2 cup

all-purpose flour

1/2 cup

cornmeal

1 Tbsp

baking powder

1 ⅛ cups

sugar, 2 Tbsp separated

6 Tbsp

butter, melted, room temperature

1/2 cup

milk

1/2 cup

buttermilk

3

eggs, separated

2 Tbsp

honey

1 ½ cups

red pearl onions, peeled and cut in half

2 cups

white vinegar

2 inches

cinnamon stick

2

cloves

2

allspice

1

bay leaf

2

peppercorns
Prep
1.

For the short rib marinade: Combine the teriyaki sauce, soy sauce, liquid smoke, sorghum, dark brown sugar, onion powder, garlic powder, Gold sauce, 1 cup of the Worcestershire sauce, 1/2 tsp. of the chili flakes, 1 Tbsp. of the salt, and the Gold sauce in a bowl.

2.

Place the short ribs in a bowl or dish, pour on the marinade, and marinate for at least 2 hours.

3.

Meanwhile, for the pickled onions, heat a skillet on medium-low heat.

4.

Add the vinegar, 1 cup of the sugar, cinnamon stick, cloves, allspice, bay leaf, peppercorns and remaining chili flakes to the pan, and simmer until the sugar dissolves.

5.

Add the red onions and return pan to a simmer.

6.

Line a sheet tray with parchment paper and transfer the onions to it, reserving the liquid in the pan. Turn the heat off so the liquid doesn't reduce, and allow the onions to cool in the fridge. Once cool, repeat this process 2 more times.

7.

After the 3rd time, cool the liquid in the refrigerator as well.

8.

Once both are completely cool, combine the onions and the liquid in a lidded container or mason jar. (This keeps for up to 4 weeks.)

9.

Preheat the oven to 325°F.

10.

For the remoulade: In a bowl, combine these ingredients in the order they are listed - mayonnaise, shallots, pickled okra, pickled garlic, horseradish, the juice of half a lemon, chopped dill, whole grain mustard, ketchup, the remaining Worcestershire sauce (should be 1/2 tsp.), paprika, a pinch of cayenne, the remaining salt (should be 1 tsp.), the zested garlic, pepper, the juice and zest of one lime, the zest of one lemon, green hot sauce and the oil.

11.

For the Johnny cakes: In a bowl, combine the corn kernels, all purpose flour, cornmeal, baking powder, remaining sugar (should be 2 Tbsp.), melted butter, milk, buttermilk, eggs and honey, and mix into a batter.
Cook
1.

Spread the benne seeds on a lined cookie sheet and toast at 325°F or until fragrant.

2.

Preheat a grill to high heat.

3.

Remove the ribs from the marinade and discard the marinade.

4.

Cook the ribs over the hot grill until cooked through, then remove them from the grill and set aside, keeping them warm.

5.

Heat a greased skillet to medium heat.

6.

Cook the Johnny cake batter like pancakes, forming cakes 3 inches or so wide.

7.

To assemble the final dish: Pull the meat off one short rib and shred it; top a Johnny cake with a tsp. of the remoulade and the shredded meat; garnish with kimchi, benne seeds and pickled onion.

8.

Repeat this process until you have the desired amount of servings.