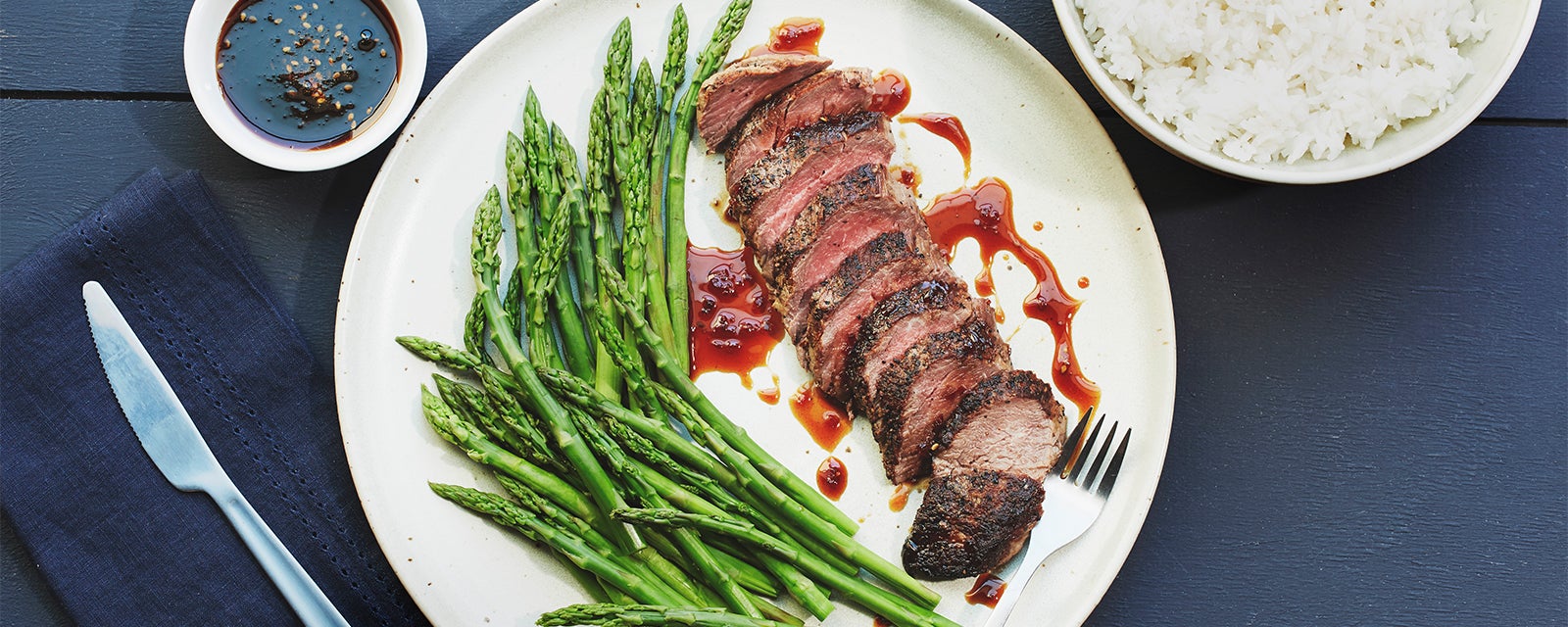 Beef Tenderloin w/ Teriyaki Reduction & Asparagus
You can also say...
Say "OK" to go back to where you left off.
Ingredients
12 oz.

asparagus

16 oz.

beef tenderloin

4 oz.

jasmine rice

3 Tbsp.

honey

2 tsp.

salt

1 Tbsp.

olive oil
Prep
1.

Cook rice according to package directions.

2.

Pour 8 cups of water and 2 tsp. of salt in a large saucepot over medium-high heat.

3.

Remove the tough ends from the asparagus and discard. Set the asparagus aside.

4.

Pat dry the beef tenderloins with paper towels. Season each with 1/4 tsp. of salt and pepper on both sides.
Cook
1.

Meanwhile, heat 1 Tbsp. of olive oil in a large non-stick sauté pan over medium-high heat.

2.

When hot, add the beef tenderloins and sear on both sides for 5 min.

3.

Pour teriyaki sauce into a small sauté pan and place over high heat. When it begins to boil, reduce heat to low and simmer until the sauce has thickened and reduced by half, about 3–4 min. Stir in the honey.

4.

Place the asparagus in the boiling water and cook for approx. 4 min. The spears should bend slightly.

5.

While the asparagus is cooking, slice the beef tenderloins against the grain into equal sized pieces.

6.

Arrange the asparagus and beef onto two plates, and spoon the teriyaki reduction around the beef. Serve the rice on the side.