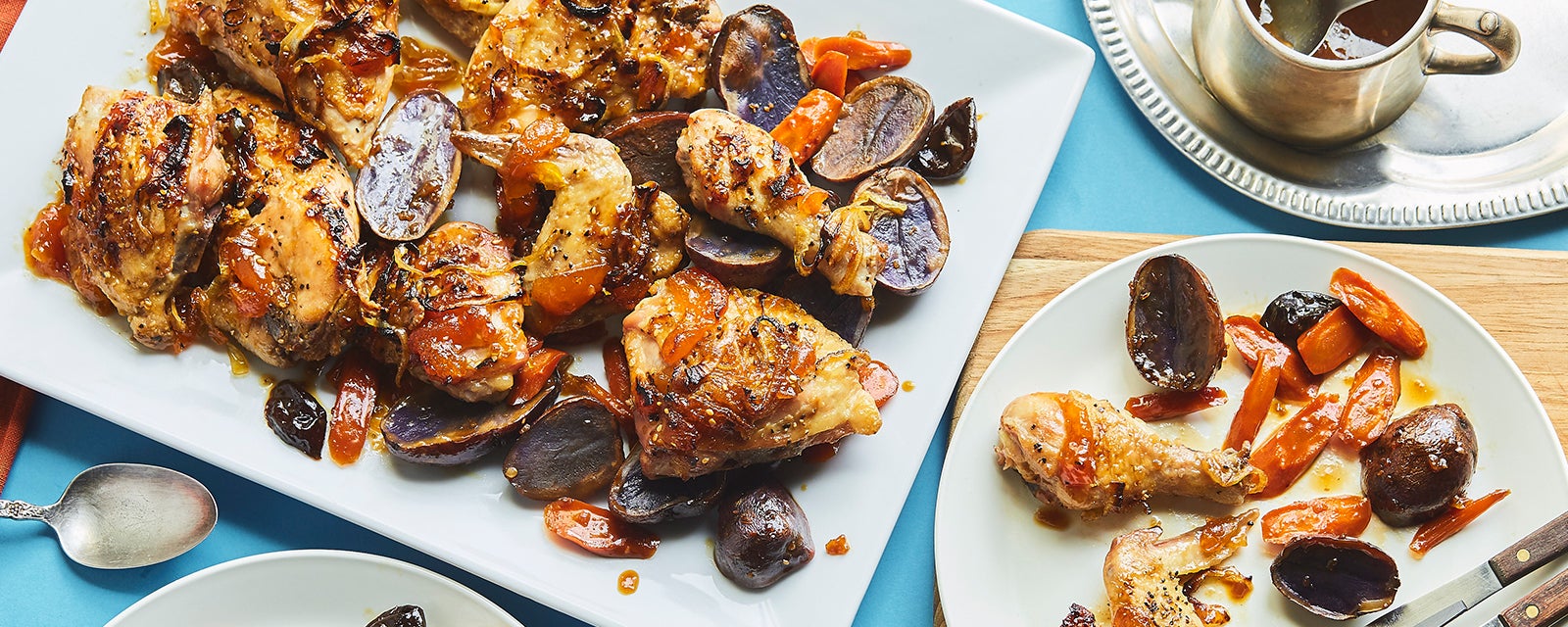 Apricot Chicken with Teriyaki Tzimmes
You can also say...
Say "OK" to go back to where you left off.
Ingredients
1

Empire® Kosher quartered chicken

1

yellow onion

8

carrots

2 ounces

dried plums

½ ounce

fresh chives

6 Tbsp

Soy Vay® Veri Veri Teriyaki® Marinade & Sauce

1 Tbsp

dijon mustard

1 cup

apricot preserves

¾ cup

orange juice

½ cup

Soy Vay® Veri Veri Teriyaki® Marinade & Sauce
Instructions
1.

Preheat the oven to 400º F.

2.

Grease a large baking dish with olive oil.

3.

Slice the onion into 1/4-inch slices. Set aside.

4.

Cut the purple potatoes in half lengthwise. Place into the baking dish.

5.

Peel the carrots. Cut into 1-inch slices on the bias and place in the baking dish. Toss the potatoes and carrots with the plums.

6.

Finely chop the chives and set aside for garnish.

7.

In a medium bowl, add the orange juice and ½ cup of the Soy Vay® Veri Veri Terikyaki® Marinade. Stir to mix well and pour over the potatoes and carrots.

8.

Cover with foil and bake for 20 minutes. Remove the foil and bake for an additional 25 minutes.

9.

Add 2 tablespoons of olive oil to a medium sauté pan. Bring to medium heat.

10.

When hot, add the onions and season with a pinch of salt and pepper. Cook, stirring occasionally, until the onions begin to caramelize, about 10 to 12 minutes. Remove from heat.

11.

Pour 6 tablespoons of the Soy Vay® Veri Veri Teriyaki® Marinade, mustard and apricot preserves into the pan with the onions.

12.

13.

Pat dry the chicken with paper towels.

14.

Season each quartered chicken on with 1 teaspoon each of salt and pepper evenly on all sides.

15.

Sear the chicken in batches: Bring a large sauté pan with 2 tablespoons of olive oil to high heat. When hot, add chicken in a single layer. Sear on all sides, about 2 minutes per side. Repeat this process for each batch of chicken, adding a tablespoon of olive oil for each batch.

16.

Place the seared chicken onto a rimmed baking sheet.

17.

Pour the onion sauce over the seared chicken on the rimmed baking sheet.

18.

Place the chicken into the oven. Bake for 30 minutes until cooked through and browned on top, basting every 15 minutes.

19.

Serve the apricot teriyaki chicken and tzimmes family style.

20.

21.