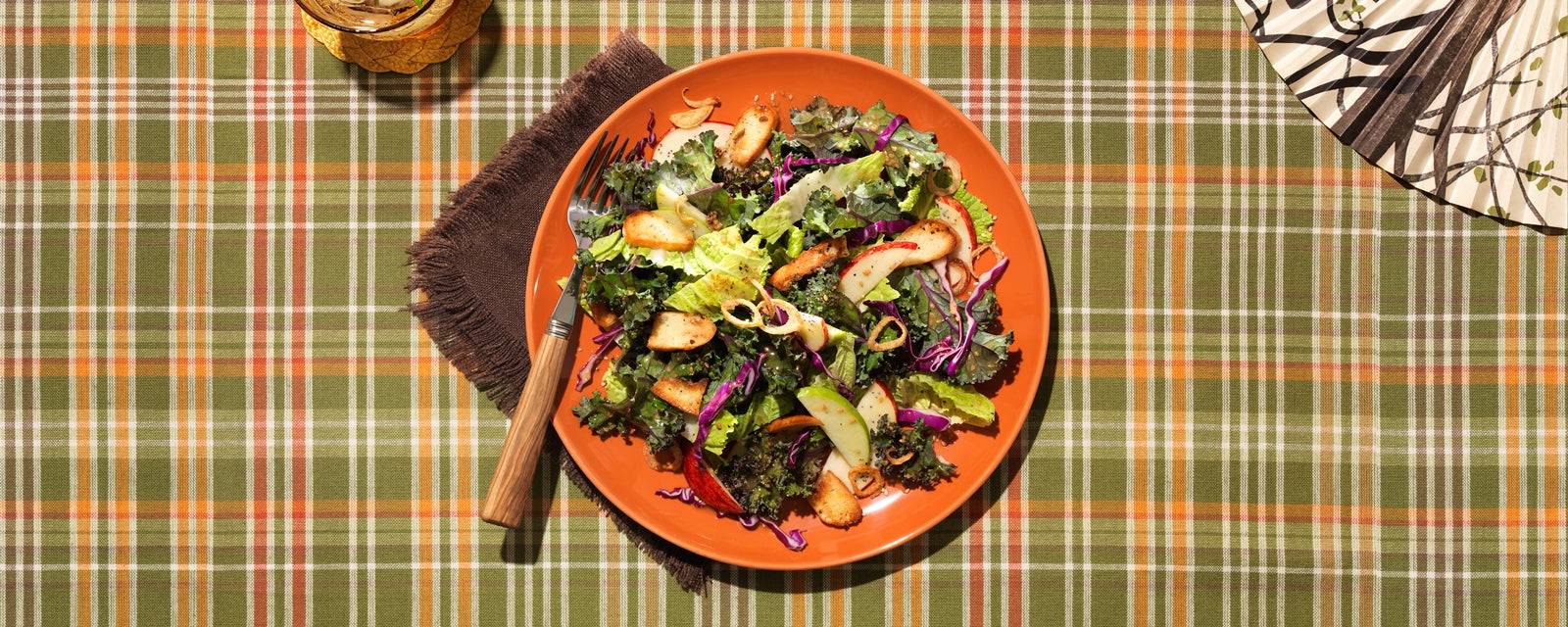 ×
You can also say...
Say "OK" to go back to where you left off.
Ingredients
6–8

kale leaves

4

red cabbage leaves

2–3

Napa cabbage leaves

1

apple

2

bialys

2 Tbsp.

butter or olive oil

1

medium-size lemon

1 tsp.

dijon mustard
salt and pepper, taste
sesame seeds (for garnish)
fried onion salad topping (for garnish)
Prep
1.

Strip the leaves from the kale stalks and chop into bite-size pieces, about 1-2 inches wide.

2.

Thinly slice the red cabbage, Napa cabbage and apple. Set aside.

3.

For the croutons: Slice the bialys into 1/2 inch cubes.

4.

Heat butter or oil in a large non-stick frying pan or wok over low heat.

5.

Add the bialys cubes, and cook until they're golden brown.

6.

Place on a paper towel to drain excess oil.

7.

Salt and pepper to taste.

8.

For the dressing: In a small bowl, whisk together the Toasted Sesame sauce, the juice of 1 lemon (approx. 2 tablespoons), mustard and salt. Set aside.
Cook
1.

Place the kale, cabbages and apple in a large salad bowl.

2.

Toss to coat with dressing.

3.

Salad can be made up to one day in advance. (The kale will become more tender the longer it sits in the dressing.)

4.

When you're ready to eat, top the salad with croutons and garnish with sesame seeds and fried onions.

5.